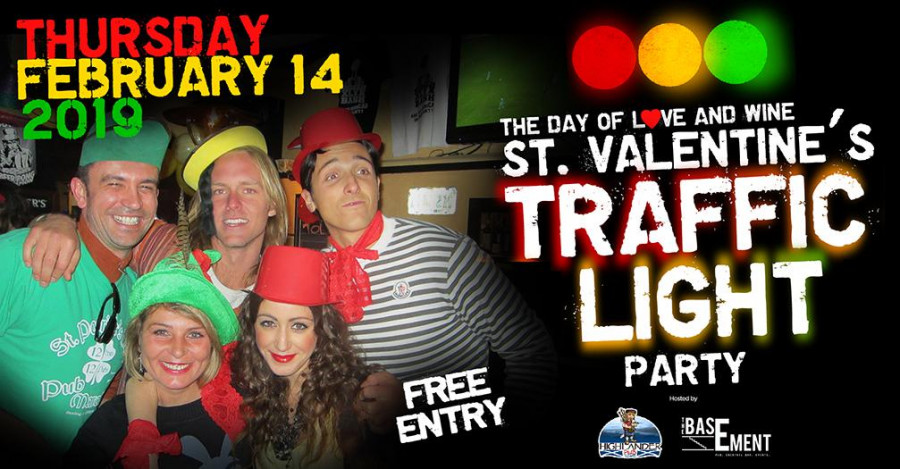 St. Valentine's Traffic Light Party 2019
€25/ per person
2019-02-14 - 21:00:00

The Highlander Pub
About this event
On February 14th, aka Lovers Day we host a little naughty party and require from our guests to dress in red, yellow/orange or green. Like the colours of the traffic light. Easy task... If not, we will make this slight distinguishment at the door of the Highlander and hook you up with your respective colour.
Wear one of those colours and get an extra shot of choice:
RED - NO-GO AREA
YELLOW/ORANGE/AMBER -UNDECIDED
GREEN - SINGLE & READY TO MINGLE
Open Bar is as usual from 10 to 11pm, followed by the traditional drinking games and body shots.
To those who indend to join the bash without the open bar and hit the other venues with us the fee is 15 Euro with drink of choice at the Highlander (just make sure you get to the bar by 23:30)
The bash will be conluded at the most pumping club in town shortly after 1am.
ARE YOU READY? (IF YOU ARE "READY" TO BOOK JUST CLICK ON THE "I'M READY" BUTTON ON THE TOP RIGHT CORNER)
Price Includes
Pizza Buffet/Open Bar - all-you-can-eat pizza and and unlimited the Carlsberg Beer, Wine and Mixed Drinks from 10pm to 11pm
FREE ENTRY at a bar on the road and FREE SHOT AT THE DOOR
FREE ADMISSION INTO A CLUB OPEN TILL LATE
FREE T-SHIRT AVAILABLE TO PICK UP BEFORE OR AFTER THE PARTY IF YOU PAY UPFRONT
Event Rules
You all know the rules! Wear one of those colours and get an extra shot of choice:
RED - NO-GO AREA
YELLOW/ORANGE/AMBER -UNDECIDED
GREEN - SINGLE & READY TO MINGLE