DRINKING GAMES AND BEER PONG
The Highlander is where it's at. Where people meet and we all get warmed up and ready to mingle...Your favourite tunes are on. DRINKING GAMES and mini BEER PONG tournaments take place from the start of the open bar till about midnight. Grand prizes for the winners. Bar hopping & clubbing starts after we leave the Highlander.
AREN'T YOU READY YET?
RUNNING LATE OR NOT A BIG DRINKER?
Get involved for only 15 Euro. No need to pay upfront. You can purchase your ticket on the spot at the bar. 15 Euro includes a DRINK OF CHOICE at the Highlander and FREE ENTRY to all venues we cover on the pub crawl. The important thing is that you manage to the get to the bar at the latest by midnight. In any case make sure you dress to impress - no shorts and no open shoes for guys.
JOIN US AT THE HIGHLANDER
We meet every night at the Highlander Pub - in the heart of the Eternal City. The Highlander is not far from the famous Spanish Steps (Metro line A goes there in case you were wondering) or the Pantheon if you need to use any of the major landmarks of Rome as a reference. Maybe you should just google maps us in order to locate us. Type "The Highlander Pub - Vicolo di Biagio 9" on your phone and that's all. Google maps are our best friend ;) Make sure you get to the bar a bit before 10pm if you plan to take advantage of all the Happy Hour.

Party like a rock star!
Save yourself the hassle of being rejected from the clubs in Rome for your choice of clothing. Dress to impress, control your drinking and leave the rest to us!

I know you've heard it before and it sounds like a worn out clichè but seriously what is a better da...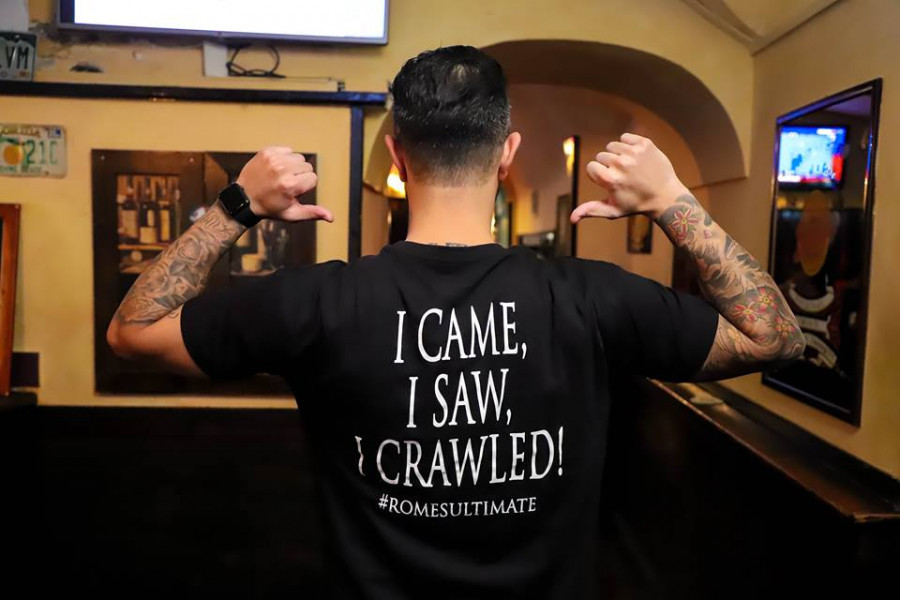 CLAIM OUR SOUVENIR T-SHIRT
Our special edition souvenir t-shirt is available to the early birds who book ahead. The t-shirt can be collected from our office at Via dei Serpenti 89, daily, between 10am and 8pm. Once you purchase your ticket, you can pick it up either before, or after attending our party.
The Highlights From Our Latest Theme Party