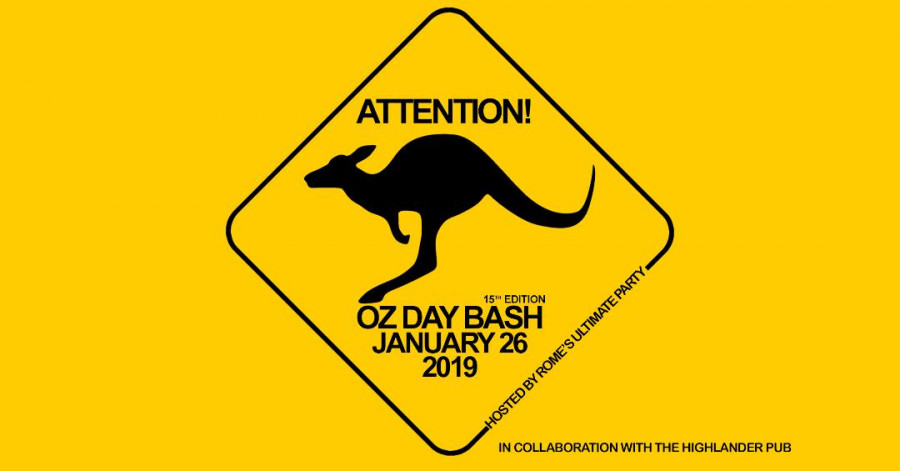 Australia Day 2019 in Rome
€25/ per person
2019-01-26 - 22:00:00

The Highlander Pub
About this event
To all the people from the Land Down Under and not only,
After the storming entry into the New 2019 we are now all focused on the our next big theme party and one of the highlights of our annual calendar - Australia Day. January 26th 2019 happens to be on Saturday this year which simply means that things will be getting off the hook.
We will actually be prepared at the Highlander starting from midday. Aussie tunes, vegemite sandwiches for all of you who come through the day. And then the smashing offer - 4 pints/drinks secure you our special edition OZ Day t-shirt
The real deal though will be lauched at 10pm. So, make sure you do not miss if you happen to be in town. Open Bar/Pizza buffet for only 25 Euro. The fee includes a t-shirt (for the early birds who pay online), admission into another bar on the road and then a club at the end to top it up. DRINKING GAMES, BEER PONG AND BODY SHOTS WILL BE TAKING PLACE AT THE HIGHLANDER AS WELL. You can simply call it Aussie Day pub crawl...
To those who indend to join the bash without the open bar and hit the other venues with us the fee is 15 Euro with drink of choice at the Highlander (just make sure you get to the bar by 23:30)
ARE YOU READY? (IF YOU ARE "READY" TO BOOK JUST CLICK ON THE "I'M READY" BUTTON ON THE TOP RIGHT CORNER)
CAN YOU HEAR, CAN YOU HEAR THE THUNDER?
Price Includes
OPEN BAR (CARLBERG BEER, WINE AND MIXED DRINKS)/PIZZA BUFFET FROM 10PM TO 11PM
FREE ENTRY AND A SHOT AT THE DOOR TO ANOTHER BAR ON THE ROAD
FREE ADMISSION INTO A CLUB OPEN TILL LATE
FREE AUSTRALIA DAY SOUVENIR T-SHIRT
Event Rules
PLEASE, DRESS TO IMPRESS! NO SHORTS AND OPEN SHOES WHICH SHOULD NOT BE THE CASE IN JANUARY BUT HERE IS A REMINDER!